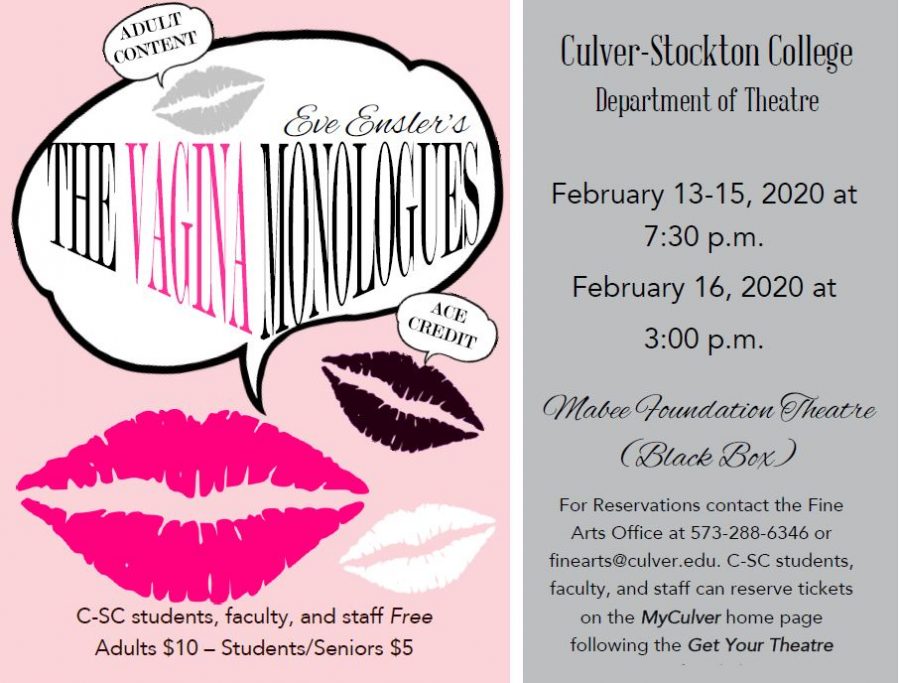 srieffer
This weekend, Culver-Stockton College's theatre department will be presenting The Vagina Monologues, February 13th – 16th.
"The Vagina Monologues encompasses what it means to be a woman and how the term "be a woman" is different for every woman.  It explores all of those differences and how, in being so different, women are all connected and more similar than we might realize," said Haidee Heaton Associate Professor of Theatre. 
The audience can expect to see a variety of performances show. The Vagina Monologues features musical numbers, as well as some drama and comedy. The show does contain mature themes that may not be suitable for all audiences. Heaton mentioned "There could be some moments that could emotionally trigger some audience members. However, there are some great moments of joy to counter-balance it all.  Ultimately, the show is a celebration of women."
The Vagina Monologues is a unique show for the theatre department. Heaton commented "…as a department, this is a style our actors need.  They need to understand the presentational aspect of theatre and non-linear story-telling."
Heaton continued "They need to understand how to form a community with an audience and one-another. THIS is the perfect show for that."
The narrator of The Vagina Monologues, Dr. Alissa Burger, Director of Retention and of Writing Across the Curriculum, and Assistant Professor of English mentioned "I have absolutely LOVED having the incredible opportunity to share this experience with the student actors and I'm thrilled that Dr. Heaton asked me to be part of this. I've had many of them in classes and have come out to see many of them in previous performances. To be able to share this experience with them and be part of the show (even though my acting experience is pretty much non-existent) has been tremendous. The actors have been so wonderful in welcoming me and including me in this work."
The Vagina Monologues will have four showtimes this upcoming weekend, you can book your tickets ahead, or stop by the Black Box stage at 7:30 pm this Thursday through Saturday to catch a showing, with a Sunday matinee at 3:00 pm. The production is free to Culver-Stockton students, $10 for adults, and $5 for kids and seniors.