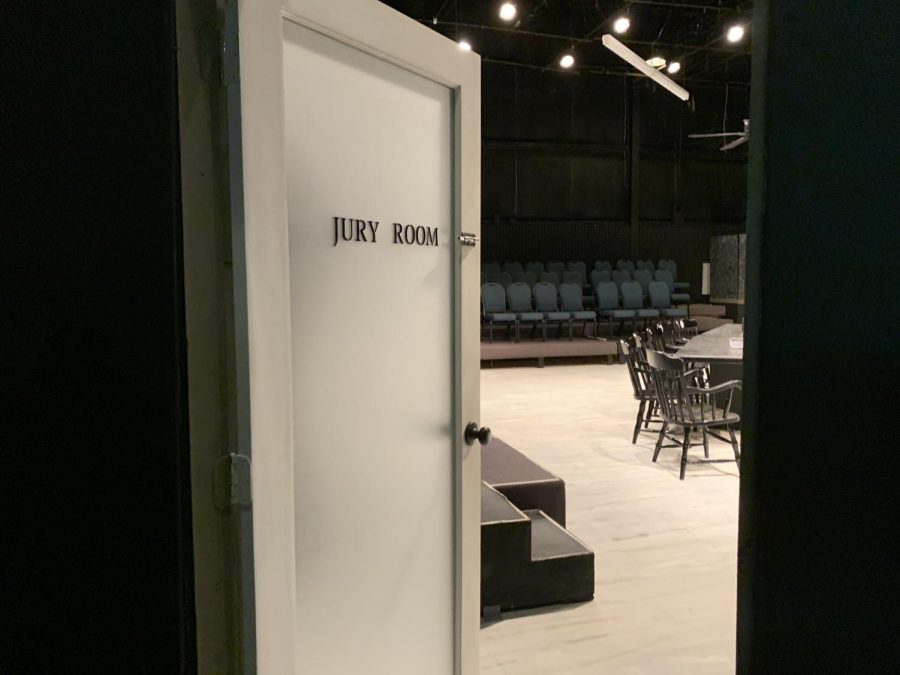 Abigail Heinecke
Culver-Stockton College Theater department recently re-opened the doors to the Black Box Theatre for their performance of "12 Angry Jurors." The last performance held in the Black Box was back in February 2020 with "The Vagina Monologues."
The production drew a large crowd of viewers for their first time back in the Black Box. "12 Angry Jurors" is based on the novel Twelve Angry Men, and tells the story of a jury made up of twelve very different people, who have to decide the fate of a young man during a murder trial. The jury has to work through their differences and biases to figure out if this man could have committed the murder.
With a 70-minute run time, the audience was quickly hooked in the banter between the characters and what the verdict would be. Being back in the Black Box put the audience right in the jury room and transported them into a set that appeared like something from the fifties. The actors donned grey makeup to give the appearance of old television shows that were in black and white.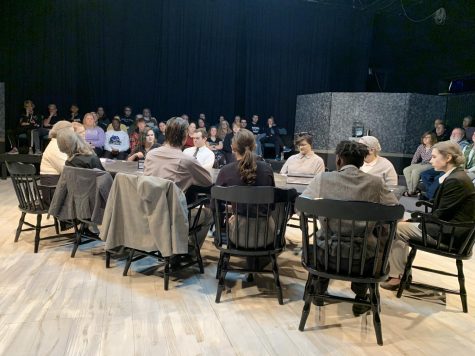 Krista Barth, senior English and Theater Major, was a cast member who commented, "I was really excited about the tech elements and the legacy of the show. Our production was really visually striking because we chose to use an entirely black, grey, and white color scheme, even going as far as to use grey makeup on our faces and hands to make it look like we were in a black and white film. It was a cool take on a show that has so many different versions that are well known."
She also mentioned how challenging it was to connect with their characters, "The most challenging part of the show was somehow connecting with the characters that held different beliefs than we do today. Our characters weren't necessarily likable, but we had to find a way to portray them in a truthful manner." Krista also said that ensemble building was a big part of creating their characters and figuring out what side they were on.
This will not be the last show in the Black Box this semester. Student-led one acts will also be taking place in the Black Box in the 3-week term.