Playoff Push for Women's Soccer Continues
Kehley Bitzas Sets Career Shutout Record
Hang on for a minute...we're trying to find some more stories you might like.
Playoffs, something only ten teams from the Heart of America Conference get to compete in. The Culver-Stockton women's soccer team pulled off its first win in the Heart Tuesday night against Mount Mercy.
The Women's soccer team ended its regular season 8-8-2 going into playoffs set to play Mount Mercy in the first round of play in games. Tyler Tomlinson, head coach of the Wildcats, knew that his team needed to pull off a win with tournament play being a must win to continue advancing. For the final game of the regular season set to be on October 27th against the number 1 team in the conference Mid-America, the stakes were high. This was to secure a better playoff position and to knock off the number one team in the conference out of first place. All fell their way and they pulled off an extraordinary 3-0 win.
Tomlinson and his team then set their eyes on Mount Mercy an opponent they beat earlier in the year 2-0. For the Wildcat's to prepare properly they need to properly rest between games and to understand that any team in the nation they can compete with when playing at there best said by Tomlinson. When you can compete with the best then you can be the best, regardless of the women's conference record of only three wins they never lost by more than two goals. Never getting blown out they always were in the game competing. This proves that they are prepared for any game.
Makkel Parrott a senior of the team also feels extremely confident in the team. They dealt early on with 1-0 losses in overtime making them feel like they were always so close to a  result. The team proved themselves that they were a team coming back each game strong and ready to compete again. After Senior Night as well Homecoming, and scoring 3 big goals was big for them Parrott said, continuing on that the team's confidence is back. With a four year goal of making into the conference championship, Parrott believes this year is as good as any.
"
After the senior night and scoring three big goals against the first team in conference, I think that got our confidence back! "
— Makkel Parrott
Kehley Bitzas a name which has been spoken about a lot in the last couple of weeks in the women's program winning the first team all-conference and jus last game breaking the career shutout record. Of course, brings a lot of confidence to the team in knowing what their goalkeeper is capable of doing. Coach Tomlinson and Parrott both think so highly of her and what she is able to do. Bitzas being more humble about the achievements, she thanks her teammates and coaches for driving her towards this goal. It was the confidence and motivation that the team needed.
The Wildcat's are set to play Benedictine the team that won their conference. A team they did not get the result they wanted against losing 2-0 to them. Tomlinson discussed that the first game they had was not a healthy team they were playing with most of the year and due to it was not the result they were hoping. Set to play them at Benedictine Friday, November 2nd the women will be looking to continue their playoff run.
About the Writer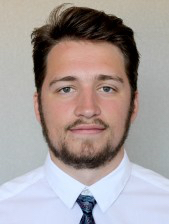 Nicholas Luciani, Sports Editor
Nicholas is a Junior from Toronto, Canada. He is a sports Communication and Marketing major. His dream for after he graduates are to become a sports journalist...