A Modern Twist on Old-School Folk Tunes
C-SC bands perform classic melodies with a modern twist.
Hang on for a minute...we're trying to find some more stories you might like.
Culver-Stockon College's Jazz and Wind Ensembles, as well as the Symphonic Bands, will be performing a concert titled "Song and Dance" in the Performing Arts Center's Alexander Campbell Auditorium on Sunday, Nov. 11 at 3 p.m. This event is available for ACE credit.
The Symphonic Band, conducted by Dr. Trent Hollinger, Associate Professor of Music and Director of Bands, will be playing: Folk Song Suite by Ralph Vaughn Williams, Blithe Bells, a modern arrangement by Percy Grainger of Johann Sebastian Bach's Sheep May Safely Graze, and Hunting Scenes, a Japanese take on traditional Taiwanese hunting songs. Folk Song Suit features three movements with many different English folk songs, including Dives and Lazarus, My Bonny Boy, and Blow Away the Morning Dew. This is the only concert for this ensemble this semester.
"
The whole concert realistically is a nice concert actually to feature the whole band program …"
— Dr. Trent Hollinger, Associate Professor of Music
In the Wind Ensemble piece of the concert, the ensemble will be playing the full length of Illyrian Dances by Guy Woolfenden. While Illyria does not truly exist but in a single line of Shakespeare's work, Woolfenden had made the music based off the Renascence, in which this song features three movements. The movements in this song are the names of dances that would have possibly been popular in the fake nation of Illyria, these movements are: Rondeau, Aubade, Gigue. In the previous band concert, the one on Oct. 13, 2018, the ensemble had played the first movement of the song.
"Illyrian Dances takes the idea of music that would have been heard during Shakespeare's time, like during the Renascence, but gives it a modern twist with the Wind Ensemble."
The Jazz Ensemble's portion of the concert will be directed by Dr. Aren Van Houzen, the Visiting Assistant Director of Music and the director of the Culver-Stockton College Jazz program this year. Van Houzen thinks that his portion of the concert will go over well, even though the program has gone through some difficulties this semester.
"We've started with a brand new rhythm section this year, a first year drummer who stepped in nicely," said Van Houzen, "Learned three new styles; the grooves are settling in nicely. We've gotten two new improvisers this year."
Van Houzen has also increased the tunes' lengths, with more complexes ideas.
"One tune that we're trying is two tunes that are mixed together, put into a Latin style that feature is named after the nick-names of two famous saxophone players."
Hollinger believes that this concert will do well to show the different levels that the band program has. A majority of the bands are not music majors, but people from around campus that share a love of music.
"The whole concert realistically is a nice concert actually to feature the whole band program, because we have all three of our large programs performing." Commented Hollinger.
To finish out this semester, the Fine Arts department has a gallery opening tomorrow, Nov. 8, 2018, at 5 p.m. that runs until Dec. 15, 2018, titled Best of Missouri Hands. Also on Thursday, the Culver-Stockton College's Chamber Ensembles and Acapella Concert in the PAC starting at 7:30. The Theatre department will have the Student Directed One Acts on Saturday, Dec. 8 and Sunday,  Dec. 9 starting at 3 p.m. and going to 4:30 p.m for the first half, and then 7 to 9:30 p.m. in the Mabee Little Theater. The bands end the semester with a Christmas concert in the PAC  at 7 p.m. on Tuesday, Dec. 11, and a Camerata 808 concert on Thursday, Dec 13 at 808 in the Merillat Chapel Recital Hall.
About the Contributor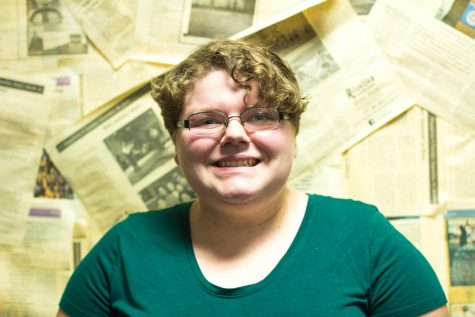 Danielle Thurman, Features Editor
Danielle Thurman is a sophomore from Bonne Terre, MO. She is a Communications major and she hopes to broadcast music on the radio or broadcast Cardinal...