Giving Thanks on The Hill
Thanksgiving traditions are shared early at Culver-Stockton College
Though Thanksgiving break stood a week away, students and faculty gathered to share their traditions on Tuesday, November 12, for an interfaith assembly led by the Rev. Amanda Sorenson. The event was founded upon the premise of sharing the diverse traditions of giving thanks held by people of all faiths and backgrounds at Culver-Stockton College, musical offering, a number of speakers giving their own traditions, and the offering of an ACE credit to top it off.
The guest speakers shared an arrangement of traditions, highlighting diverse cultures, and a look into Judaism, Christianity, and Islam's own ways of giving thanks throughout the year.
Rebecca Katz discussed Sukkot, or the Feast of Tabernacles, a lively tradition celebrating the harvest season centered around the construction of a Sukkah. The tradition uses a small hut with a roof crafted from organic material, thick enough to block out the light of the sun, while remaining thin enough to allow the occupants to see the stars above. The traditional shelter is used as a living space for the duration of the week-long festival, in which the celebrants study the Torah, take their meals, and even sleep, depending upon the conditions of the weather.
Elena Duru spoke on the traditions of her family's denomination, wherein Thanksgiving is celebrated at a mass on the second Sunday of November. During the course of the celebration, participants receive gifts of food, animals, drinks, and other goods. The food and drink is largely consumed within a feast, and the leftovers are then given to the priest and church that hosted the celebration.
Naomi Mosley spoke of the Muslim tradition of Ramadan, a month long celebration held as one of the five main tenets of Islamic faith, where all able-bodied celebrants are expected to fast until sunset, refraining from eating, drinking, smoking, engaging in sexual relations, or other material pleasures during that period, instead focusing upon the study of the Quran, and clearing their minds of negative thoughts.
Once the speakers had shared their own traditions, the attendees were invited to write the Thanksgiving traditions of their own families and faiths on a banner that will be on display in the Crown Center during the period before the holiday. Afterward, the Rev. Sorenson offered closing words, wrapping up the ceremony.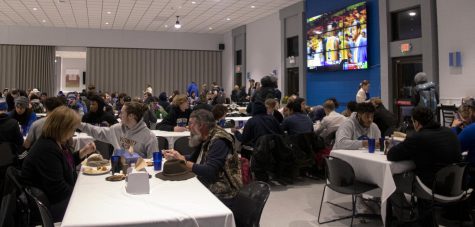 The day after the ceremony, students were invited to enjoy a Thanksgiving dinner hosted by The College's staff and faculty, a delightful arrangement of traditional Thanksgiving dishes with a serving of pie offered to top the meal off.
Leave a Comment
About the Photographer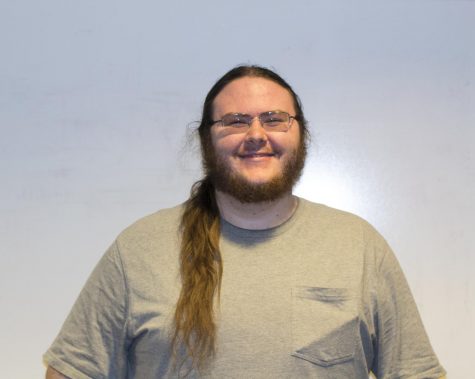 Quentin Wells, Op-Ed Editor
Quentin Wells is from Kahoka, Missouri. He is currently a senior at Culver-Stockton and majoring in Media Communications, Quentin is primarily involved...