The Importance of Banned Books Week
C-SC English Professor Discusses Controversial Books
The American Library Association's Banned Books Week kicked off Sept. 27 and ended Oct. 3. This is a week to shine a light on literature that has been censored throughout history for a variety of different reasons.
Culver-Stockton College Associate Professor of English Dr. Alissa Burger taught a Narrative Fiction class on banned books in Spring 2020.  Students in the course read Judy Blume's Are You There God? It's Me Margaret, Toni Morrison's The Bluest Eye, Stephen King's Carrie, Angie Thomas's The Hate U Give and Alex Gino's George. There was also a final reading project where there many different options to choose from including Jay Asher's Thirteen Reasons Why.
Burger's stance on the censorship of books is that it is problematic. "Not only should people have the right to read what they want to read and access the information they're curious about," said Burger, "it comes with a whole slew of other problems." She then states that there are other places that people would be able to access these books even if they were banned.
"If the school library bans it, they could likely get it at the public library, borrow a copy from someone else, or buy a copy." Another problem that goes with this is the fact that no one likes being told what not to do.
"There are a lot of people who if you tell them not to do something or that they can't do it will just want to to do it even more, which again means if the goal in banning a book is to make sure people don't read it, that's likely to be ineffective" Burger says.
She also mentions that it is important to look at the American Library Association (ALA) Office of Intellectual Freedom's most frequently banned books list to get a sense of what books are being or have been most frequently challenged in that year and why. "This list provides a really revealing snapshot of the moments cultural and political debates."
Burger believes that taking the time to recognize Banned Books Week is important for many reasons.
"
In this time when we now have the sense that pretty much any information we want is right there at our fingertips with a quick Google search, it's useful to realize there are still notable instances where this is not the case because of book challenges or bans.
— Dr. Alissa Burger
Burger touches on the sense of erasure and control that comes with the censorship of these books, especially in regards to the kids in the LGBTQ+ community that may question their identity that may not have a supportive family environment.
"In recent years, frequently banned books have also included books that talk about race, police brutality, gender inequality, sexual assault, and mental illness," says Burger, "which again, provide us with some insight into the "hot button" issues of the moment, so to speak, and raise opportunities for considering who wants to silence these voice, why, and what the stakes of that could be."
Burger doesn't have a favorite banned book – she says there were too many to choose from. "I particularly love books that privilege voices that are too often silenced or ignored. Books that privilege women's voices – and particularly those of survivors of abuse or sexual assault – are immeasurably important. Angie Thomas's The Hate U Give is tremendous and offers a really important opportunity to discuss the recent protests and Black Lives Matter movement." said Burger, "Books that foreground trans identity in ways that are accessible for younger readers, like Alex Gino's George and Beyond Magenta: Transgender Teens Speak Out  are great and we absolutely need more books that speak to the entire range of the LGBTQIA+ perspective and experience. And of course, as a Stephen King scholar, I'm really interested in which of his books have historically been banned and why. That a lot more than one, but again, there are so many incredible ones out there!"
Leave a Comment
About the Contributor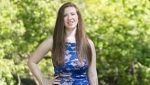 Jessica Beaver, Staff Writer
Jessica is a senior Media Communication and English double-major from Quincy, IL.  This summer she interned at the Lewis Press-News Journal in LaGrange,...