The Second and Final Debate
A Much More "Civil" Conversation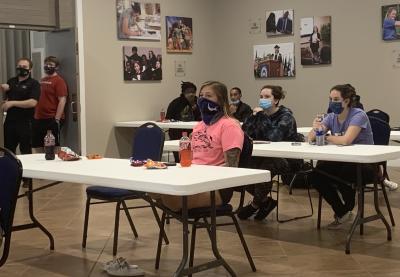 The fourth event in the U.S. Presidential debate watch series was held recently at Culver-Stockton College.  This was was unexpectedly the second and final Presidential Debate following last week's dueling town halls.
Following a discussion on the nature of the race and the shifts in polling since the last debate, students were given the opportunity to watch along with the debate
Much like the first debate the result from the students was mixed. However, this debate seemed to draw more support to Trump rather than Biden.  Generally, most topics yielded ties, with a few going to Biden, and Trump solidly taking National Security –  his only clear victory with the audience.
The most notable change in this debate was having each candidate's microphone muted during their allotted two minutes at the beginning of each topic.  The candidates were much more respectful with only a few outbursts.  Rather than shouting over one another a simple "no" was often the counter to an opponent's assertion.
President Trump came out seeming much more collected. While both candidates seemed to have performed much better, the shift in the President's demeanor seemed much more notable than Biden's consistent attitude between the debates.
"
This debate at least approximated some exchange of useful policy ideas, and a degree of decorum fitting the office. It was spirited, there were lively exchanges, most of it was completely relevant."
— Chad DeWaard, Associate Professor of Political Science
An interesting point of the debate was when the President asserted that Biden's infrastructure and climate plan was going to force Americans to have tiny windows, talking at length about his belief that Biden's plan would prefer that you have small windows, or not even have any windows at all.
The most relevant and contentious exchange seemed to be when Biden and Trump slammed each other on their particular records.   Biden's central role in the passing of the 1994 Crime Bill being put up against Trump's quest to turn public opinion against the Central Park Five, a group of Black teenagers who were falsely accused of the assault and murder of a woman in Central Park in 1989, later acquitted when it was discovered that DNA evidence pointed to an individual who was already incarcerated for another violent crime.
Last week, Chad DeWaard, associate professor of Political Science and the host for the election series, held a discussion on the electoral system in place of the second debate.   It explored third parties and the difficulties they face in the United States' two-party system.
A final event in the debate series, an election watch at C-SC on November 3rd, is scheduled to take place at 7:00 p.m. in Meaders Hall in the Gladys Crown Student Center.
Leave a Comment