Assistant Professor of Biology: Lisa Prowant
Second in a Series on New Professors at C-SC
This year brought three new professors to teach at Culver-Stockton College.  The Wildcat Wire previously focused on Assistant Professor Patrick Allen in the English department. Today, the Wildcat Wire features Assistant Professor of Biology Lisa Prowant.
Prowant applied to teach at C-SC from an ad her friend sent to her.  They were both looking for positions and the position in the Biology department at Culver-Stockton was the first one she applied for in her job search. "I had a bookmarked folder of job ads, and this was the first one I applied to because it was so perfect!"(Prowant).
"
I love biology, so I always try to include the things about biology that I find cool, hoping the students find them cool, too."
— Asst. Prof. of Biology Lisa Prowant
Prior to coming to Canton, Prowant lived in New York and attended Stony Brook University where she was working on her Ph.D. in Ecology and Evolution.  She has experience around the country and beyond.  "I also traveled a bit to do field ecology, mostly around the U.S. – Virginia and Illinois – but notably to Antarctica at the beginning of this year to count penguins."
Professor Prowant enjoys Culver-Stockton College, mainly because of the people. "I love the people I work with. Everyone has been incredibly nice and welcoming. The students have been fantastic as well. I really like the community spirit here and the support."  She also likes the academic freedom that she finds on The Hill.  "I was able to begin a new course in my first semester on a topic I am really excited about! I look forward to getting to experience travel courses."
She is from Kansas City, KS and she still has family in that area. "I am very happy to be back in the Midwest. My dream home is near my family, as long as I still get to travel all over the planet as much as humanly possible."
Prowant was active in sports when younger – volleyball, basketball, soccer and track.  She also played intramural soccer and softball while in graduate school.  "I did kickbox for 4 years while I was in NY" she adds "and did a little MMA. In my last year there, I began teaching some of the kickboxing classes, which was a ton of fun."
She finds her passion in the classroom teaching her students. "I love biology, so I always try to include the things about biology that I find cool, hoping the students find them cool, too. I also try to find out about the students I teach so I can add examples using things – usually animal examples – that I know they like."
About the Contributor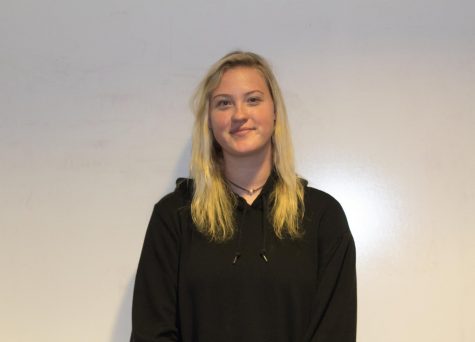 Cameron Prenter, Staff Writer
Cameron Prenter is from Coral Springs, Florida. She is a sophomore, and her major is sports communications. She is now a member of the newspaper, Wildcat...