Vaccine Mandate and Protocols Appear to Be Working at C-SC
Dean of Student Life Pleased With Results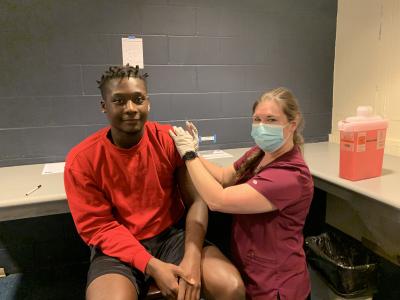 This summer the Culver-Stockton College administration announced that, beginning in August, residential students and staff would be required to be vaccinated against COVID-19, request an exemption, and wear masks if needed.  As reported in the Wildcat Wire, President Douglas Palmer cited student and community safety as the main reason for the mandate.
Fast forward to September, and the mandates appear to be working.  Dean of Student Life Angie Royal reports that more than 85% of residential students are vaccinated and the remainder have approved medical or religious exemptions.  "I couldn't be more pleased with how the vaccine mandate has gone" Royal states.
Presently C-SC has had only 8 students test positive while on campus since the beginning of the semester.  If students have COVID symptoms, Royal says the campus testing clinic in Crown 108 is staffed M-F from 11 a.m. to 1 p.m.   For testing outside those hours, Royal suggested contacting C-SC Director of Counseling & Wellness Susan Moon at smoon@culver.edu.
"
I couldn't be more pleased with how the vaccine mandate has gone."
— Dean of Student Life Angie Royal
Royal's biggest concern is with masking.  According to the approved exemption protocols, students must mask when indoors and in a group of more than 10 people or when indoors in a group of 10 or fewer but unable to maintain social distancing.  "Knowing that approximately 100 students are on campus with an approved exemption, yet I see very few students ever wearing a mask is concerning" Royal states.  She continues "For everyone, regardless of vaccine status, if you're not feeling well and must be around people, put on that mask!"
Recently the campus held a vaccine clinic and 18 members of the C-SC community received the vaccine.   Soon, the College will begin mandatory testing of unvaccinated students, and will expand testing of vaccinated students also.
In 2020 the College published a COVID dashboard on its website, and Royal stated that updating the dashboard was "in the works."
Leave a Comment