Hispanic Heritage Month Student Highlights: Elaysia Rasmussen
To celebrate Hispanic Heritage month, the Wildcat Wire has reached out to some of the students at Culver-Stockton College who come from a Hispanic background. Elaysia Rasmussen, a junior psychology major, comes from California and shares deep connections with her family from Mexico.
"On my mother's side of the family, we have deep Mexican roots. My abuelita [Mercedes Rubio Rodriguez] was born in Culiacán, Sinaloa, Mexico. She was born Yaqui Indian, which was an indigenous tribe in Mexico. When she was about five years old, she and her 4 siblings left their parents and Mexico on foot, and were brought across the Mexican-American border over to Chicano territory in San Diego, California. Later in her life, she had 9 children, including my mother, and lived a hardworking life full of love and devotion to every person she met.
"
I am more than proud to say I have a family who will always love and support me, even from across the country.
— Elaysia Rasmussen
My mother's side of the family is very very close. I have countless tias and tios that blessed me with many cousins. For us, family is the most important thing in life. We find any and every way to get everyone together in the same household to celebrate each other's accomplishments. Most of the family lives in South Bay San Diego, but there are a few that have moved to Arizona for an easier life financially. Of course they are only a few hours away, but whenever they are in town, even for a day, the entire family gets together at my abuelita's house. There is always a bounty of food on the table and loud voices that fill the household with life. The adults partake in social drinking amongst themselves while the younger of us cousins hang out all night. The cousins range from age 31 to 4, but we all love to hang out with one another, play games like hide-and-seek or soccer, and talk about what makes us happy and sad. Usually the entire family watches a scary movie toward the end of the night because our abuelita loved to watch them. The next morning we would all wake up and realize that half of the family never left for home, and everyone crashed out on the couches, a spare bedroom, or cuddled up with each other on the floor.
I am more than proud to say I have a family who will always love and support me, even from across the country. My family hangs out like the best of friends, and it has been that way for as long as I can remember. My abuelita passed away in 2011 from pancreatic cancer, and it was the hardest day in all of our lives. She is the heart of our family and will forever remain the heart bringing us all together. She was a family woman- a very hardworking one at that. I see a bit of her in each of my family members whether it being looks, attitude, or lifestyle choices. She started this big family, and we will forever continue to celebrate each other in her honor.
Thank you for letting me share my story with you. It is one that I always love to share because I am extremely proud and blessed to call who I do, family. I hope one day, when I start a family, to bring them to my abuelita's house and teach them to celebrate and love family no matter what."
Elaysia, is just one out of the many students who shares deep connections with her Hispanic heritage.
Leave a Comment
About the Contributor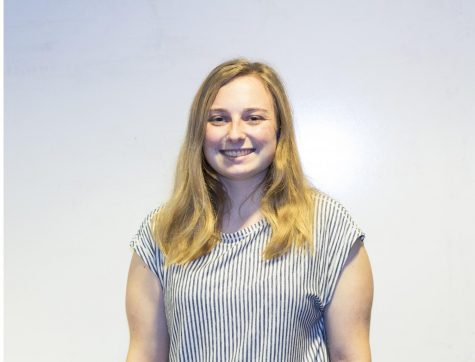 Abigail Heinecke, Editor-In-Chief
Abigail Heinecke is from Camp Point, Illinois. She is a senior majoring in English and minoring in creative writing and media communication. Abigail is...