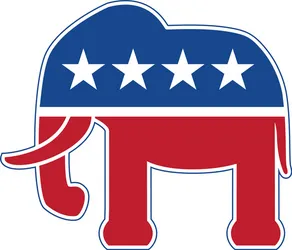 With the upcoming 2024 presidential election, a diverse array of candidates take the stand to advocate their guiding principles and ideas to the nation. The Republican party broadcasted their first debate among eight candidates, including Ron Desantis, Nikki Haley, Mike Pence, Vivek Ramaswamy, Tim Scott, Doug Burgum, Chris Christie, and Asa Hutchinson. Professor Chad DeWaard head of the international studies department covered the event for the student population to tune in on the live-streamed coverage gaining knowledge on potential leaders of the country.
The demographics of candidates opened the idea of old versus young, small-town experience versus big city. Present were governors of North Dakota, Arkansas, New Jersey, South Carolina, and Florida who ranged from successful businessmen and CEOs to former senators and even vice president. For candidates as young as 38 to 72, from man to woman, the stand is uniquely diverse, ultimately reflecting their ideologies. Students were quick to notice the various distinctive qualities of the panel, "It was interesting to see Vivek Ramaswamy's point of view versus the older politicians. There was a large difference of opinion between the old versus the young," a junior student said.
"As someone who is not well educated on politics attending this ACE event helped broaden my view and understanding of current world events and the different perspectives these candidates have. I think it's important for students to attend these ACE events because most of us are able to vote, and it's important to understand who and what you are voting for," a junior student said. 
The turnout for the ACE event was relatively high, with a ratio percentage of 80% higher for men than women.
"I thought the ACE event helped to get more people interested in politics in the US because I think that is something many don't always pay enough attention to. The debate itself brought up some very relevant points for many Americans, for example, what should be done in the Ukraine, and how the candidates themselves feel about the people currently running this country. All in all, I would say that this election is very important in determining the future of the United States," a senior student said.
Voter turnout among the younger generation, particularly college students has increased since the last election in 2020, with a record high of 66%. Overall, 70% of eligible Americans voted in at least one of the three elections between 2018 and 2022, according to a report released by the Institute for Democracy and Higher Education (IDHE) at Tufts University's Jonathan M. Tisch College of Civic Life.
Student voting is highly important to the growth of voter turnout in the nation. International sophomore student Julia Sveign shared her insight as a non-American citizen not eligible to vote. "I am not as familiar or highly interested in the American election system, yet I found the debate to be very interesting and intriguing with back-and-forth opinions and humorous commentary. I attended the event for an ACE credit, however, learned a lot about American culture and politics. I would recommend my classmates attend ACE events more open-minded to learn about relevant topics that will affect us in the future, rather than going with the mindset to earn credit and not pay as much attention," says Sveign.