It's Aca-Terrific! BackTrack Vocals comes to Quincy
New York a cappella group visits area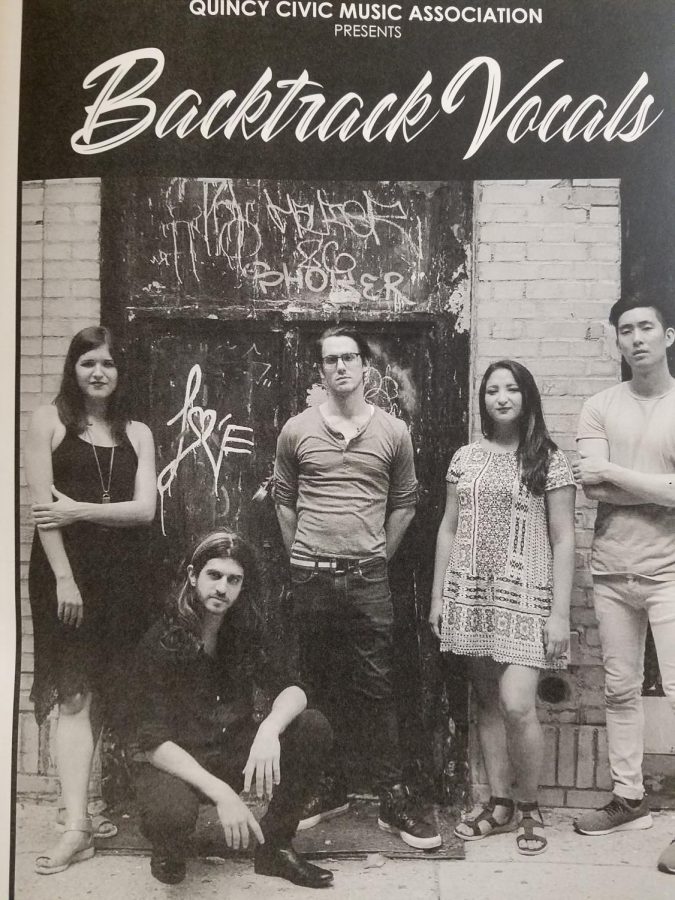 Winners of the 2017 Aca-Challenge and selected Audience Favorite, Backtrack Vocals 5-person a cappella group brought its harmonies and beatbox to Quincy's Morrison Theater Monday, October 8.
Recognized as one of the top a cappella groups in the nation, BackTrack Vocals won Steve Harvey's 2017 "Sing Off" and is a featured track on 2018 "Voices Only Vol. 2."
"
This is their first trip to Quincy, and we are delighted they are here."
— Dr. Mary Ann Klein, president QCMA
According to the New York group's website, the quintet got its start on YouTube, where it has over 10 million views and 110,000 subscribers.  Backtrack Vocals has been together for 5 years.
Quincy Civic Music Association President Dr. Mary Ann Klein stated before the show  "This is their first trip to Quincy, and we are delighted they are here."
The group impressed with their tight harmonies during the show, and entertained the crowd with oldies ranging from "Stayin' Alive," "Stand By Me," and  "Ain't No Mountain High Enough" to modern "No Tears Left to Cry" by Ariana Grande.
Alto Melissa Jordano showed off her songwriting skills with the original number "Driftwood," written at a time in her life when she felt she was searching for direction.
According to soprano Mallory Moser "Something we like to do in our shows is to show you how we do it, how we arrange (songs) with the beat, then bass, then background and lead."  Her original composition "Number 2" is based on relationships.
Beatbox artist Johnny Buffalo demonstrated his skills that won "Best Beatbox" at an a cappella competition last year, and bassist Jojo Otseidu was recognized as an "Outstanding Bass" at the 2017 International Championship of Collegiate A Cappella Finals.
The event was sponsored by the Quincy Civic Music Association (QCMA) and was free to Culver-Stockton College students and staff.
QCMA is celebrating its 92nd season and in 2019 will bring the Russian National Ballet and Russian String Orchestra to the Tri-State area.