Radio Plays Come Alive
Culver-Stockton College's theater department is producing two radio plays the weekend of Valentine's Day, starting this Friday with performances at 7:30 p.m. on Feb. 12-13, and a final performance on Valentine's Day at 3 p.m. It will be both live streamed on Youtube, as well as done physically with a limited audience allowed in the Alexander Campbell Auditorium. The two radio plays that will be performed are Carmilla which is based on the novel of the same name by Sheridan Le Fanu and was originally broadcast in 1940; and the second is The Shadow People originally broadcast in 1952.
The theater department is no stranger to different ways of producing productions. Last semester, the department produced a socially distance play, followed by one completely online.
"In trying to find a production that would meet the current COVID guidelines, I decided on radio theatre," said director David Lane, a Lecturer in Speech and Theater Education, "It will be easy to keep the actors distanced and we would be able to stream the audio similar to radio shows.  I also think it will be interesting for the small live audience to see how a radio production is created.  I have always liked old-time radio programs, so that was where I started looking."
The stage manager, Bailey McNamar who is a junior Fine Arts Management major, related the radio plays to a podcast.
"There is not going to be much movement on stage other than the Foley artist. It will still be interesting to watch and see it is just going to be different."
Much like how a podcast focuses less on visuals, and more on audio, that is not too different than what the production is doing. Because of that, the audition of a foley artist is one of the most important parts of the show. A foley artist is one who tries to replicate sound, for example, a foley artist may try to replicate the sound of shoes crunching on leaves.
"In trying to give it the feel of old-time radio, we are creating all the sounds live on-stage," said Lane.
McNamar states that, while she does not want to give away all the secrets to the foley artist tricks that will be produced in the show thinks that people will be shocked to see what is being used to create sound. "The Foley artist are using all kinds of things to make sounds. Cymbals, drums and even a piano. The thing is what they use to make the sound of wind blowing looks nothing like what you image it to be. They are constantly moving and hitting things."
The event is available for ACE credit, but only for in-person attendees.
Leave a Comment
About the Contributor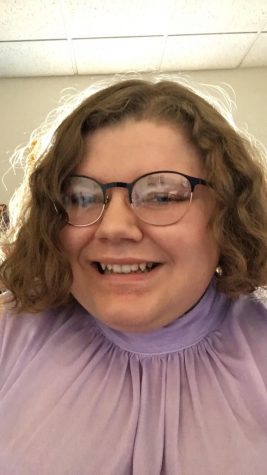 Danielle Thurman, Features Editor
Danielle Thurman is from Bonne Terre, Missouri, and is a senior Media Communications major. Along with writing for the school's newspaper since her freshman...