"Noises Off" Production Brings Theater Back To Public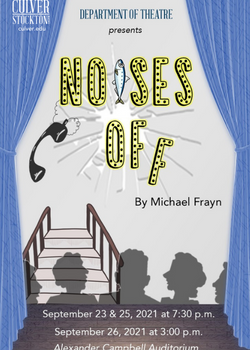 The Culver-Stockton College Theatre Department prepares to bring "Noises Off" to the stage, for their first production open to the public since Spring of 2020.
Dr. Haidee Heaton, Associate Professor of Theatre and director of "Noises Off" commented "We are extremely excited to be doing live theatre. This is our first production since February 2020 that has been open to the general public and not just the C-SC community. We are thrilled that our students' families and off-campus friends can attend in-person instead of watching a live-stream. Also, the first production always has a great energy to it with our returning students and new additions. There is an excitement in the atmosphere that is absolutely contagious!"
"
It is one of the best comedy scripts written for theatre. "
— Haidee Heaton
"Noises Off" is a play presented in a farce, comedy style, that tells the tale of a theater company. In the production, audience will get to experience a play within a play, as this theater company performs a fictional play called "Nothing On." "Noises Off," is split into three acts that tell the tale of different sides of the story that take place during different showings of "Nothing On." Heaton also commented, " It is one of the best comedy scripts written for theatre."
Homecoming week has also introduced the opportunity for alumni of Culver-Stockton College to participate and be included into parts of this production. Alumni from over forty years ago to recent graduates of last year will be participating. There are currently two outside designers and one staff designers who are working on the show that are alumni. Saturday showing will also feature cameos from alumni who will be in the show, as well as receiving recognition.
"Noises Off" will have have three showtimes this upcoming weekend in the Alexander Campbell Auditorium. You can book your tickets ahead, or grab a ticket before the production begins at 7:30 pm this Thursday and Saturday to catch a showing, with a Sunday matinee at 3:00 pm. The production is free to Culver-Stockton students, $10 for adults, and $5 for kids and seniors.
Leave a Comment
About the Writer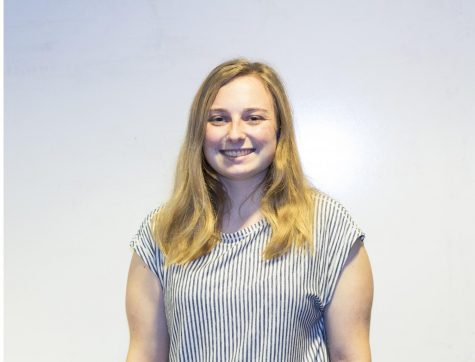 Abigail Heinecke, Editor-In-Chief
Abigail Heinecke is from Camp Point, Illinois. She is a senior majoring in English and minoring in creative writing and media communication. Abigail is...