Menswear Giveaway Highlights Job Placement Services – Dress Clothes Available Year-Round
The Menswear Clothing Event on February 10 highlighted Career and Internship Services' program to provide dress clothes to students. While the service is usually available by appointment, the menswear event offers greater visibility to the service, and additionally offers students the chance to have their clothing fitted and altered. With the assistance of the American Association of University Women (AAUW) and help from volunteers, the event brings an old-fashioned department store experience to the basement of the Carl Johann Memorial Library. For a quick summary of the event's purpose, and further information, see the video below.
Joining the women's professional clothing event held in the fall semester, the professional dress events help to raise the profile of Career and Internship Services on campus. Led by Career and Internship Services director Robin Jarvis, the event raises the department's profile and opens the door for students to discover additional services, such as Purple Briefcase, a social media platform for career services used to list jobs and internships. Students can activate an account tied to their school email to view these postings, take career profiling tests, view interview prep material, and enjoy a wide variety of other services. For more information, students can contact Jarvis at her Culver-Stockton email or by phone, as listed in CSC's staff directory.
Speaking on the event, Jarvis remarked "This and the women's clothing event are among my most well attended events. This year we had more selection than in years past. We got more donations, especially in shoes and suit jackets." Though Career and Internship strive to provide clothing for every student that needs it, the event does experience some difficulties in acquiring clothing to fit every student, reporting problems acquiring slim-fit shirts, smaller waisted pants and jackets fit for athletic builds, or pants long enough to suit taller students comfortably. The clothing is largely provided by donations from faculty and alumni, as well as the local community. Volunteers like Lisa and Tony Kozelichki help to build up a friendly atmosphere for students, respectively providing sewing and adjustments, and playing at customer service to help create a friendly and relaxed atmosphere and provide the experience to help students find the right fit.
Leave a Comment
About the Contributor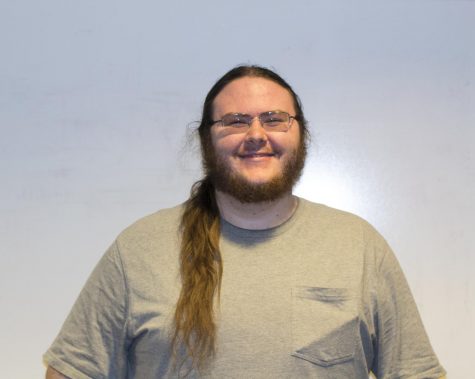 Quentin Wells, Op-Ed Editor
Quentin Wells is from Kahoka, Missouri. He is currently a senior at Culver-Stockton and majoring in Media Communications, Quentin is primarily involved...