Culver's Got Talent: A Recap
An overview of what happened at this year Culver's Got Talent.
The Performing Arts Center was packed Thursday, March 17 as Campus Programming Council hosted Culver's Got Talent. Seven acts performed, all competing for a cash prize and a chance to perform at this year's Hillstock. The competition was fierce as this year's contestants brought a number of talents including rap, dance, instrumentals, and creative writing. 
Brady Lasack started off the competition, sharing a poem written by his grandfather. Titled "Beginnings", Lasack recited the poem from memory as he took the audience into his grandfather's life, sharing his feelings that no matter the relationship, the beginning is the best part. 
Brian Komo then performed a musical number on the keyboard called "Close Contact", a song he wrote during quarantine. The style and tempo shifts in the piece, kept the audience engaged and on the edge of their seats. 
The Bigger Picture, a dance group with Jaylin Ellis, Markia McCullough, Demi Brown, and Maurice Silas performed different styles of dance along with spoken word. The group used their performance to speak out about oppression in the black community.
Up next was creative writer Jem Liddle, who shared their short story "They Say She is Beautiful". Then came self-taught guitarist Asher Weinberg, who performed an original piece titled "River View".
"I was nervous and excited because I worked really hard on my song and wanted to get up on stage to share this piece I've worked so hard on," Weinberg said. 
Damonni Morris or Dom CMD, rapped an original song called "Old to New", which is about new people that have come into his life and old friends who have stuck around and supported him. During his performance, he gave a shout-out to his friends in the front row who have stuck by him. 
The final performer was last year's third-place winner, Sam Morgan, who wrote a new song just for Culver's Got Talent. Morgan played the guitar and sang his original song, "Nothing Sweet About You". The audience clapped along during his performance as he sang about a girl. 
This year's judges were history professor Dr. Scott Giltner, Dean of Students Angie Royal, and Student Government Association President DJ Jackson. Contestants were judged on stage presence, crowd interaction, talent, and overall performance. 
"
I think it's pretty clear Culver's got talent.
— DJ Jackson
Morris rapped his way into third place with excellent stage presence. The Bigger Picture landed in second place with their powerful performance. Morgan took the win, with the most audience involvement and overall performance. 
"Winning Culver's Got Talent was really gratifying because it means that I'm in the right place with my major and passion," Morgan said.
These three performers will be at Hillstock on May 7.
Leave a Comment
About the Contributor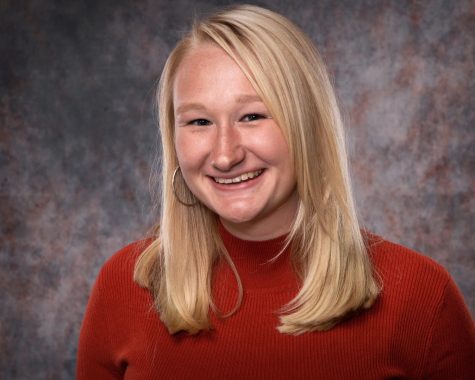 Jessica Hornberger, Editor-in-Chief
Jessica Hornberger is from St. Charles, Missouri. She's a junior majoring in media communication and marketing and minoring in Spanish. Jessica is a multisport...