Rupcich Continues to Run After His Dream
Andrew Rupcich continues to make Culver-Stockton College proud. Rupcich is a former C-SC student-athlete, who played football here from 2017 to 2021. Late last week, he had his Pro Day at the University of Missouri. The Pro Day gave Rupcich the opportunity to showcase his skills in front of NFL scouts and front office personnel.
"I did very well and even impressed myself," said Rupcich while talking about his experiences at the Pro Day. He then continued by saying "(these) results should help (his) draft stock." 
Rupcich excelled in the position drills and got even better scores and times than he did during the combine. His jumps significantly increased, his vertical increased from 27.5 to 31 inches, while his broad jump went up to nine feet. He was able to do the shuttle and three-cone drill this time, unlike the combine. For the shuttle, he got 4.9 seconds, and 7.95 for the three-cone drill. He was unable to do these drills at the combine because he strained his hamstring while running the 40-yard dash.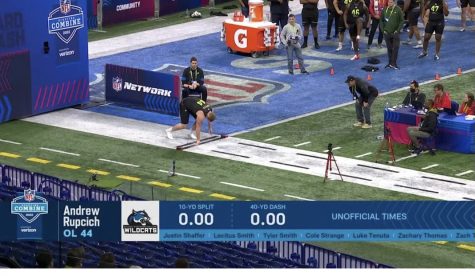 Since the combine, Rupcich has been trying to take it easy on his lower body so he could be as healthy as possible for his Pro Day. It worked with the great day he had with showcasing his abilities. "I tried to get as close as I could to 100% before the Pro Day because I knew how much this could help my future," explained Rupcich.  
Along with Rupcich increasing his stock with his on-field skill, he is becoming even more of a likable person than he already was. He has been sitting down and doing a variety of podcasts over the past year. The most recent one he did was with Alexis Krafts and Jake Ellenbogen on the Downtown Rams Podcast. He said he really enjoyed "the experience with the Downtown Rams Podcast." Rupcich continued by saying he enjoyed every podcast he has done because of the opportunities that have come along with doing them.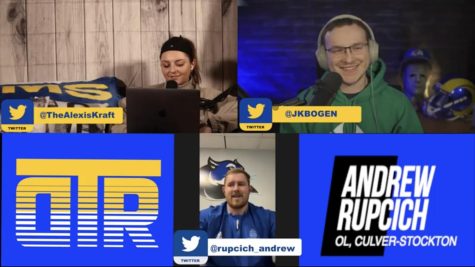 The Pro Day was the final chance for Rupcich to improve his draft stock before the day he has been waiting for his entire playing career. The next step for him is to continue training here at Culver-Stockton College and patiently wait for his dream to finally come true. The NFL Draft starts on April 28 and continues until the 30. If Rupcich keeps catching the attention of NFL teams and sliding up their draft boards, it can be expected for his name to be called during the draft, which will complete his lifelong dream.
Leave a Comment
About the Contributor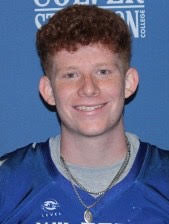 Dom Herrera, Copy Editor
Dom Herrera is from Frisco Texas. He is a sophomore majoring in Communication and Sport Management here on campus. He is also a member of the Culver-Stockton...