Andrew Rupcich Signs With The Tennessee Titans
Former Culver-Stockton College student athlete Andrew Rupcich's dream of becoming a NFL player has finally come true. On April 30, Rupcich signed an Undrafted Free Agent Deal with the Tennessee Titans. He agreed to the terms of this deal shortly after the conclusion of the 2022 NFL Draft. While Rupcich did not get to hear his name called during the draft, he still found a future home in Tennessee.
"
It was the perfect opportunity for me all around. [The Titans] ended up being the best fit, the best money, [and the best] opportunity."
— Andrew Rupcich
In the week leading up to the draft he was receiving calls and texts from teams showing interest in him. Rupcich described the entire Undrafted Free Agent process as stressful, but was able to pick where he wanted to go as a benefit. According to Rupcich, "four teams put in offers and [he] got to pick from the four."
Rupcich playing for the Tennessee Titans means that he will get to learn from his role model and favorite football player, Taylor Lewan. He's said before during multiple interviews that Lewan is someone he tries to model his game after. Rupcich will now be able to soak up everything from Lewan to make himself an even better player.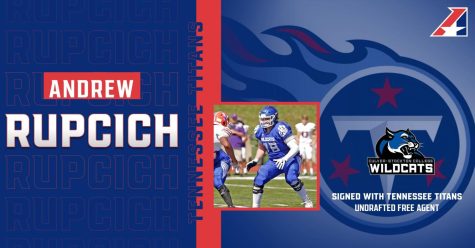 Rupcich was one of six players from the Heart of America Conference to sign with NFL teams. This demonstrates the strength and skill inside the conference, proving that if you are talented enough, they will find you regardless of the size of your school.
Rupcich is happy he was able to make it to the NFL, but he is still as driven as always. "I'm just super excited," Rupcich said. "It's already a dream come true, but I'm not done yet. I want to keep playing as long as I can, not stopping until I'm ready to go."
Next up for Rupcich is Rookie Minicamp with the Titans from May 13 to May 16. Here, Rupcich will be able to prove his worth in front of his new coaching staff in order to try and make the 53 man active roster in August. If he doesn't make the active roster, he'll have to wait his turn on the practice squad, fighting to make his way up.
Leave a Comment
About the Contributor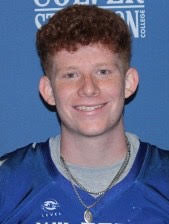 Dom Herrera, Copy Editor
Dom Herrera is from Frisco Texas. He is a sophomore majoring in Communication and Sport Management here on campus. He is also a member of the Culver-Stockton...