C-SC's Theater Production of Little Women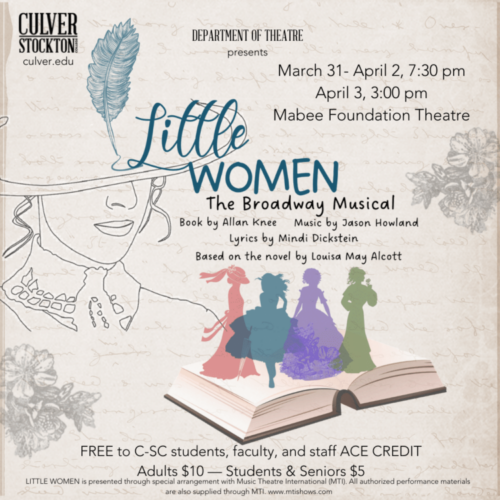 Culver-Stockton's Theater Department put on their showing of Little Women. Louisa May Alcott's classic novel gets new life in this Broadway hit. It showed for four days, playing from March 31 to April 2. There were plenty of laughs, and even some tears, from the audience as we followed the four March sisters through their antics and journeys of finding love in this coming of age tale. This was their final performance of the year.
Senior theater major, Bailey McNamar was the stage manager for the show.
"I have two favorite parts to stage managing this show. The first part is the cast, crew, and production team. They were so fun to work with and made this one of the best shows to stage manage," McNamar says.
"
We were constantly fighting against time.
— Bailey McNamar
Due to some unforeseen circumstances, they lost a whole week of rehearsals because they had to move the dates of the show and spring break. But the cast and crew did amazing pulling through and giving the school an excellent show.
Despite the trials that the cast and crew had gone through, they still managed to put on an amazing show. Keep an eye out next fall for the next planned performance from Culver-Stockon College's theater crew.
Leave a Comment