Jazz and Wind Ensembles Gearing Up For Another Band Tour
This past weekend, Culver-Stockon College's Music Department kicked off its Pre-Tour Concert with two separate performances done by the Jazz and Wind Ensembles.
On Saturday, Feb. 26 the Jazz Ensemble directed by Dr. Aren Van Houzen, Assistant Professor Of Music, had their own concert in the Alexander Campbell Auditorium. They performed works that celebrated great arrangers of the big band era.
On Sunday, Feb. 27 the Wind Ensemble directed by Dr. Trent Hollinger Associate Professor of Music, performed their concert with  C-SC Concert and Chamber Choirs. The Wind Ensemble featured three pieces, Eric Whitacre's Ghost Train, John Mackey's Hymn to a Blue Hour, and Erika Svanoe's Steampunk Suite.
"
Traveling together is really fun and we always get much closer as a group.
— Bailey McNamar
These ensembles will perform those pieces during their annual Band Tour, where they will get the chance to showcase their talents and recruit at a variety of high schools, and for the students in the band to have fun and bond outside of the performances.
"Traveling together is really fun and we always get much closer as a group. And it's fun to see the faces of the kids we perform for. They will tend to jam out with us," commented Senior flute player Bailey McNamar.
They started their tour off yesterday, and it will conclude later this week on Wednesday, March 2. They are visiting 7 schools in total, with some of them in Iowa and Missouri.
On Monday, they performed at Central Lee High School in Donnellson, IA, and then at Van Buren County High School in Keosauqua, IA. Tuesdays performances will start with Keokuk High School in Keokuk, IA. The next concert will take place in the afternoon at North Callaway Middle School in Auxvasse, MO. Then concluding performances will be held Wednesday at three different high schools. The morning concerts will first take place at Knox County High School in Edina, MO, and following that the next performance will take place in Lewistown, MO at Highland High School. Their final performance of Band Tour will take place at Green City High School in Green City, MO on Wednesday afternoon.
The Music Department's next concert at Culver-Stockton College will be a Jazz Ensemble and Wind Ensemble concert on April 6. It will take place at 7:30 p.m. in the Alexander Campbell Auditorium.
Leave a Comment
About the Contributor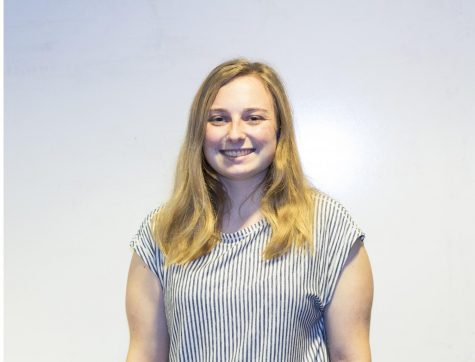 Abigail Heinecke, Editor-In-Chief
Abigail Heinecke is from Camp Point, Illinois. She is a senior majoring in English and minoring in creative writing and media communication. Abigail is...