Wildcat Sports Digest – Jan 28
Hang on for a minute...we're trying to find some more stories you might like.
Here's the latest in Wildcat sports, courtesy of John Schild and the C-SC Sports Information Department…
The Culver – Stockton College Wildcats men's basketball team had there four game winning streak end after playing away at Baker University losing 71-64. The loss drops the Wildcats to 11-11 overall and 7-9 in the Heart of America Athletic Conference.
The Culver-Stockton College men's volleyball team is still searching for its first victory when on Friday, January 25 The Wildcats only led two times in the match that ended with the Grand View Vikings posting a 25-15, 25-21, 25-13 final score. C-SC drops to 0-3 overall and 0-1 in the Heart, while Grand View improves to 2-0 overall and 1-0 in the league. Sunday January 27 the Wildcats still not able to pull out a win after a 25-16, 25-20, 25-27, 25-14 loss to the Milwaukee School of Engineering Sunday afternoon at Charles Field House. C-SC drop 0-4 overall.
The Culver-Stockton College women's basketball team put five players in double figures in earning a 92-76 victory and a season sweep over Baker University Saturday afternoon. The Wildcats trailed 18-16 after one quarter and 41-38 at halftime before outscoring the hosts 54-35 in the second half. C-SC shot 55.5 percent in the final 20 minutes, draining 20 of its 36 shot attempts. The Wildcats also knocked down seven of their 11 3-pointers in the second half. C-SC, now 13-9 overall and 9-8 in the Heart of America Athletic Conference.
The men's bowling team placed fifth out of six team with a total score of 7,819. The Wildcats recorded 4,851 pins in five team games on Saturday, and 2,968 pins in 16 baker games Sunday. Meanwhile, the women's team also placed fifth among seven women's teams. The Wildcats registered 6,541 total pins with 4,163 pins coming in five team games and 2,378 pins coming in 16 baker games.
Read more at www.cscwildcats.com
About the Writer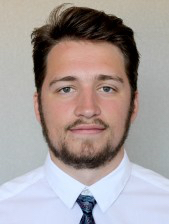 Nicholas Luciani, Sports Editor
Nicholas is a Junior from Toronto, Canada. He is a sports Communication and Marketing major. His dream for after he graduates are to become a sports journalist...