Did These Movies Put You In The Spirt for Halloween?
As Halloween came and went, you may have spent way too much time binge-watching scary movies.    The Wildcat Wire staff has compiled a list of movies from the recent "spooky" season, from multiple popular streaming services.
If you are not a person who is not into slashers and horror, then you will probably be safe sticking with movies and shows that give you the Halloween aesthetic, without the scare. Disney+ has you covered with movies that will are suited for younger audience, with a guarantee of not being too scary. They have some live action movies that will put you in the mood for Halloween with Halloweentown, Twitches, and Hocus Pocus. If you are looking for some animated movies that fit the same style they also have The Nightmare Before Christmas and Frankenweenie. These movies all offer a more family friendly setting and will not keep you checking to make sure you locked all of your doors.
Hulu offers some comedic relief if you are looking to have some laughs this Halloween. They have a variety of categories in their Huluween line up, but comedy is mashed into a variety of their films. If you are wanting something you can sing along too and humorous, then movies like The Rocky Horror Picture Show (1975) would be right up your alley. With humor as well as rock songs, it will have tunes stuck in your head all night. If you want some comedic horror, Hulu has The Final Girls (2015)
If you are someone who loves to be scared and is into the horror genre or slasher films, then HBO Max has a lot of classic for you. They have a lot in the horror section with Stephen King's It (1990), The Conjuring, and a remake with It (2017). If you are more interested in a gory slasher fest, they also offer Friday the 13th (2009), Final Destination (2000), and A Nightmare on Elm Street (1984). These movies will be sure to give you some jumps and keep you up all night with a horror movie marathon.
Netflix also has some movies that will put you in the Halloween mood. They have some original movies like the Fear Street Trilogy that came out this summer. It is will give you the feeling of a classic slasher movie, with an intricate story line. If you are not into any type of scary movie that is based on Halloween, summer camps, or anything too scary, then you might want to check out the Jaws series. This will give you some scares and is a classic thriller that will give you a break from all of the same movies playing, while also keeping you interested in the scary movie genre.
If these streaming services are missing your go-to Halloween movie, you can always check out Freeform's "31 Nights of Halloween". You can stream movies on the app as well as watch the live cable television stream and check out their schedule here. You can also rent your favorite movie through Amazon if you don't feel like going out.
Enjoy your movie night and the rest of the "spooky" season.
Leave a Comment
About the Contributor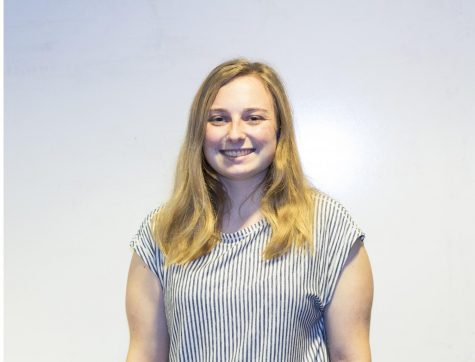 Abigail Heinecke, Editor-In-Chief
Abigail Heinecke is from Camp Point, Illinois. She is a senior majoring in English and minoring in creative writing and media communication. Abigail is...